Broadstairs is best known for our stunning beaches and general quaintness, as one of the original English seaside resorts which has never lost it's charm, visitors come here knowing it's a welcoming and beautiful town. That's why our Broadstairs holiday lets, in the "jewel of Thanet', are so popular. Many visitors come back year after year and comment how little has changed. Everyone goes on about the town's connections to Charles Dickens, not just in historical Dickens Week when you'll see crinolined ladies running around and gentlemen in historic bathing attire on penny farthings in the street, but all the time: "oh Broadstairs, Charles Dickens loved Broadstairs, he called it the freshest freest place - whch it is of course, we love it..." folk will say and we wholeheartedly agree. We love the historic charm of this place. 
However, beyond the overall charm of the town, some of you might be wondering about how you'll spend your days here when not: on the beach, in the sea, playing crazy golf, at the bandstand, eating ice cream at Morelli's Ice Cream Parlour, dining out, visiting the Turner Contemporary Art Gallery in Margate, catching a show at the Hilderstone Theatre or a band in one of the local pubs, singing shanty songs with the local folk singers, being mesmerised by the magicians at the Magic Bar, strolling round the coast to Ramsgate, discovering Botany Bay, admiring the architecture etc...... SOME of you are wondering what shopping opportunities might be here..... we know how some of you just love a little browse around the shops and the chance to pick up something unique as a gift for the folks back home or memento for yourself.  
And so, allow us to reveal a few of the very best of the local shops, including some new delights recently opened.
Plantlet opened in May 2019 at 102 High Street. It is is the sweetest little botanical shop with an exquisite range of luscious plant babies in stylish contemporary containers, cards and gifts. Do visit, you'll be delighted we're sure.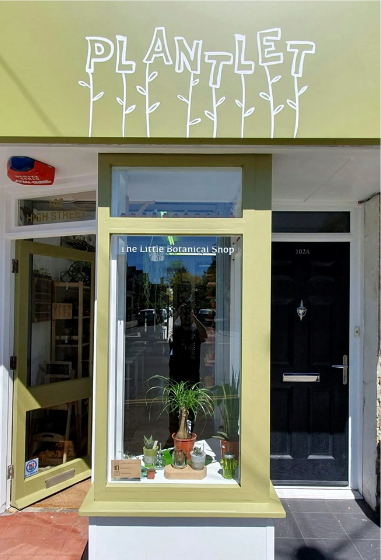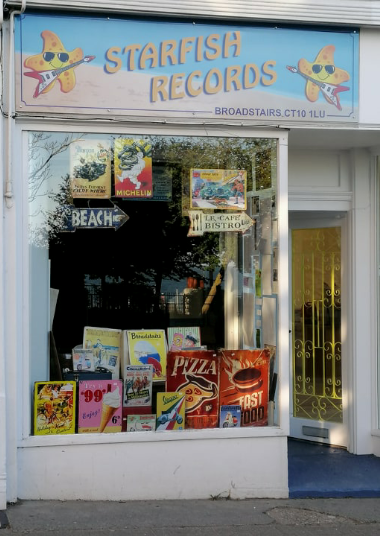 Starfish Records also opened this year dedicated to bringing the joy of music to all - catering for lovers of every genre with plenty of nostalgia. It is a heaven for collectors - or indeed for anyone who may be discovering Vinyl or CD's for the first time.
Go in for a talk, some laughs,a great selection of vinyl and CDs for music afficionados plus some musical instruments, music related art and collectables. Browse and buy tunes from every genre, find them at 23a Albion Street, almost opposite Albion Gardens. 
Albion Street also has the excellent  New Kent Art Gallery, featuring contemporary local artists, with a constantly changing exhibition programme. Pick something up for your walls back home, or perhaps a sculpture or two. The work on show here is varied and interesting. cirated by artist owners, Karen and Brian who ensure the quality is always high. 
There are several antique and gift shops here too, as well as cafes, bars and restaurants, from the well established, outstanding Albarinos (Tapas) to Posillipo (Traditional Neopolitan Italian, praised by Antonio Carluccio), with a new  smart Italian recently opened on the corner with the High Street, Sardinia, already proving very popular. Carry on from the bottom of Albion street as the road curves up and round away from the sea for more retro vintage finds on Nelson Place - visit Nelson's Bits if you like a rummage, you never know what you might find!
The Noticeboard is a quirky one off on the High Street next to Pierremont Park as the road dips down towards the sea. The shop features posters for local events and activities and it is also a gallery selling artwork by local artists, frequently including photography by award winning, local fine art photographer Mel Chennell who is acquiring a growing reputation for her stunning black and white images that just get better and better. A recent exhibition here was stunning portraits of punk rock icons by Christopher Bashford. It's a very original place, sure to surprise and delight. 
A few doors down, vintage fashion specialist, The Vintage Wardrobe, is a must visit, if you love fashion from years gone by. Do also go to Madam Popoff in  the Old Town in Margate, if you have a penchant for vintage wear. Both shops are absolute treasure troves. 
For more modern fashion go to La de Dah Boutique further down the hill, loose, wearable linens in flattering shapes and elegant sandals for sophisticated ladies who dress for comfort and style. Or head to on Charlotte Street, where you'll find some of the nicest shopping in town.
The ultra modern and stylish Kit,  sells Skandi-esque children's and grown up fashion and homewares   Across the road, side by side visit: Arrowsmiths, in an old pharmacists shop bursting with character and original fittings, for beautiful cards, gifts, toys, clothing and accessories all hand picked and can be gift wrapped; then Home by SP, sister shop to the lovely SP florists in the Broadway. At Home by SP you can pick up unusual and stylish items from your home including beautiful plants - entirely different in style to Plantlet - both shops are distinctive and unique.  The Broadstairs Gallery has wonderful prints and original art, much of it themed around the town and local area if you are looking for a reminder of your time here ot hang on your wall.
Across the road at the bottom of York Street is the legendary Harringtons, a lovely old hardware shop said to be the inspiration for the Four Candles Sketch! Nova Clarke's workshop sells  hats and clothing from Nova herself and her designer friends. More new shops are set to open on York Street later this year.  Smiths Wellness Cafe on York Street is a perfect spot to stop and take stock of your Broadstairs shopping trip. Enjoy an artisan coffee and healthy lunch or slice of cake in convivial surroundings. 
We think you're going to like it here. 
Please support our local shops. And tell your friends about our brilliant town. 
Thank you for reading today's blog post. 
To book your stay with us at Broadstairs Apartments - luxury self catering holiday apartments close to all the amenities of the town - check availabilty for your preferred dates using the form on our home page.