The 149th Open is 16th-19th July 2020 at Royal St George's Golf Club in Sandwich. Broadstairs Apartments provide exceptional luxury self catering accommodation nearby. 
Medieval Sandwich and the iconic St George's are a short and straightforward drive from our beautiful, well equipped, luxury holiday lets in Broadstairs, about 20 minutes down the A256.  If you choose to stay with us while the tournament takes place, you're sure to be delighted, comfortable, not far from all the action, with all the home comforts you might wish and extremely stylishly appointed on a quiet residential street in a charming seaside town, described by the author Charles Dickens as "the freshest freest place". 
Past, Present, Perfect ....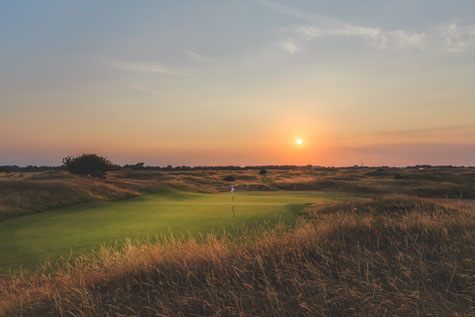 The Open last came to Sandwich in 2011, it seems like no  time at all.  Darren Clarke finally took the trophy, after 19 previous attempts, was it using predecessor Greg Normal's locker, or the morale boost provided by a note passed to him from Tom Watson's caddy, that gave him the edge, or was it simply his time at last, after years or trying!  His name is now in the annals of  the tournament here in Kent, which are filled with similarly dramatic stories spanning almost 150 years since since JH Taylor was the winner of the very first Open at St George's back in the time of Dickens himself, in 1864, just four years after the tournament began in Ayrshire in Scotland.
Other Championship Golfers here include Bobby Locke and Sandy Lyle.
Who will be Championship Golfer of the year in 2020? Well that remains to be seen and there's Port Rush first in 2019, but one thing you can take care of well in advance, and you'll be well advised to do so, is to get your accommodation sorted out. Hence we thought we'd get a timely blog post out into the interweb to help you to find us -  you'll be so glad that you did! 
A slice of heaven
As you'll know, the course at St George's is one of the most beautiful and playable in the world. Huge thanks are due to club secretary Robert Leigh who has kindly permitted us to share these spectacular photos on our homage blog post. 
Golf, of course, is loved for many reasons and you'll be a massive fan if you are coming to The Open but you'll also find the ancient Kent town of Sandwich is exceptional too. Make some time to explore and see some of of the most ancient and charming buildings in England with tudor beams, tiny doors and lintels. There are restaurants and shops to check out too, it's a quality destination with much to recommend it. 
Naturally it's the coastal setting of the holes that make for a unique playing and spectating environment. Royal St George's rivals any golf course in the world for beauty combined with difficulty for the players.  
This whole area of East Kent has miles of beautiful coastline and quaint towns that you will love to discover - and it's all very easy to get around.
Right by the sea in the heart of the Kent countryside, we call our country the Garden of England for it's beauty and fertile soil, the 149th Open presents the world's best players in fierce competition for the Claret Jug.
There are viewing spots around the course, for example, the 6th hole, known as 'The Maiden'  is the perfect spot for a line of spectators along the top of the high sand dunes surrounding the green, to get the best view of play.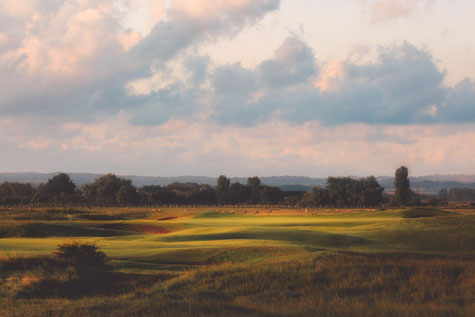 This is the place to be in 2020. Come and experience the tournament and allow some time to explore Sandwich itself and the wider area.
Broadstairs, where our holiday lets are situated, is another beautiful town with a completely different character you will also love. Broadstairs architecture is typically Victorian  though there are older parts, including a 16th Century arch you won't want to miss (right next to a Modern British restaurant,. Wyatt and Jones, mentioned in the Michelin Guide, overlooking the beach in the centre of town).
Our holiday lets, Broadstairs Apartments, are in an architect designed converted period property on a leafy, quiet residential street, a short walk from the centre, with plenty of off-street parking and everything you will need for a comfortable and luxurious stay.  We worked closely with a leading interior designer to provide contemporary stylish accommodation to meet the tastes of the most discerning of guests. 
The award winning beaches, outstanding restaurants and independent shops here in Broadstairs and nearby attractions, should you choose to explore, will be sure to tempt you to add an extra dimension to your visit to East Kent for the Open 2020.
Book your accomodation now
Have a look at our  beauitiul Apartments and check availabilty starting on our home page.  
You must of course book your accommodation early to avoid disappointment at what will be a busy time.
More golf at North Foreland
If you want to play during your visit, Broadstairs also has a very nice golf club at North Foreland, Joss Bay. Guest players are welcome  here.  http://www.northforeland.co.uk/
Make your trip extra special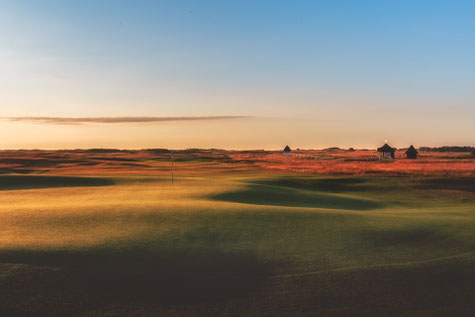 THE ROYAL ST GEORGE'S GOLF CLUB
Find out more about The Royal St George's Golf Club:  https://www.royalstgeorges.com/ 
The Royal St. George's Golf Club, Sandwich, Kent, CT13 9PB |
Tel: 01304 613090
THE ONE CLUB
The One Club is a way for fans of The Open across the world to get closer to golf's original Championship, follow the link below. Membership is free and benefits are myriad, allowing you to take your place among The Open's greatest and most influential fans. The One Club is an opportunity for you to share your passion for The Open and become part of a community able to access a range of exclusive benefits and experiences including access to exclusive content plus unique offers and promotions throughout the year. Why not join today? 
https://www.theopen.com/the-one-club/
HOSPITALITY
For all your hospitality needs enquire directly to The Open organisers, on the link below: